There are many ways to buy bitcoin, but perhaps one of the most convenient is with Coinbase. Today we bring you a guide with images included for you to do it step by step.
Coinbase is one of the most popular exchanges because it is easy to use. In October 2017 it reported 11.7 million users. That is, more than Charles Schwab with 10.6 million active brokerage accounts. What is relevant is that Schwab has existed for decades, while this cryptocurrencies exchanges was launched only in 2012.
Buy Bitcoin at Coinbase
After you have finished opening and setting up an account on Coinbase, you will see its control panel with the price of Bitcoin (BTC), Ethereum (ETH), and Litecoin (LTC) along with a bitcoin table.
Step 1
Once you are logged in, scroll to the top of the home page. Click on "Buy/Sell". A screen with the following appearance will appear:
You can specify a bitcoin dollar amount. Whatever you want. The website will display the amount of BTC you would receive for that amount. In this example, the purchase is for $200 of bitcoin. This was equivalent to 0.01369407 BTC at the time.
Step 2
You will see the order to purchase 0.0141 BTC for $200, with a fee of $7.67, which is 3.8% of the purchase price. The price of bitcoin was $13,627.81 at the time of sale.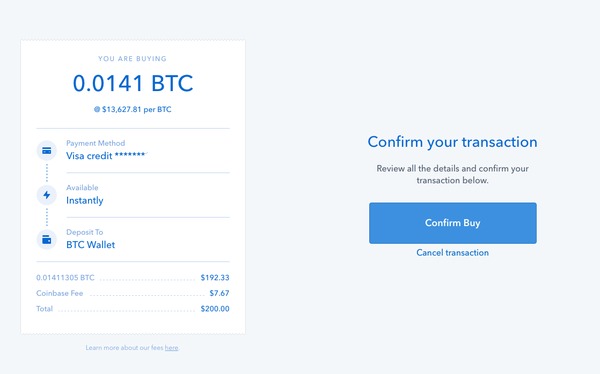 Step 3
Click on "Confirm Buy". You will then see a green check indicating that the purchase was successful.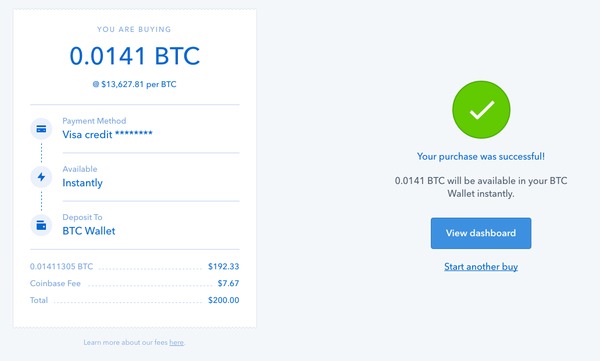 Return to the dashboard and there will be a summary of the account and your activity, including the $200 purchase of Bitcoin.
Step 4 (Optional)
One approach to buying an investment with a fluctuating price like bitcoin is the average cost in dollars. The average dollar cost is to buy a fixed amount each month to average your cost base. The average dollar cost works well for investors who buy stocks or cryptocurrencies with a fixed monthly budget.
The platform allows you to configure this type of recurring transaction directly from your control panel if you wish. Simply check the "Repeat this buy" box on the Buy/Sell page and choose the frequency of your recurring purchase.
Note: Coinbase also offers sales of Ethereum (ETH), Litecoin (LTC) and Bitcoin Cash (BCH).
Source link